July 11th, 2009
When you hear the name, Six Flags, what rides do you think of? I would guess that most of you are thinking of the newer rides like El Toro or King Da Ka. What you don't know is that there are many older rides in the park that are just as fun as the newer ones.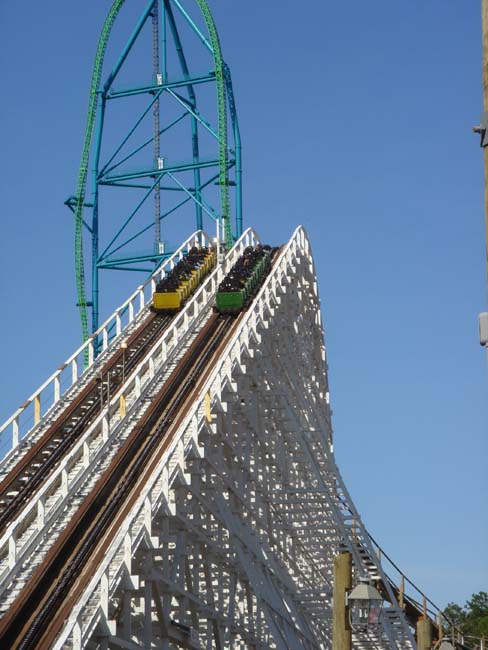 One of my favorite roller coasters in Six Flag is called, Rolling Thunder, a 30 year old roller coaster with wooden tracks. I make sure I ride it everytime I'm at the park because I have great memories on it, and riding it brings back some of those joyful memories. It sticks out in my mind because it was my first big rollercoaster I ever rode. I remember squeezing my dad's arm until it was red and screaming so loud I had a sore throat for days! Do you remember your first big rollercoaster? Well, Rolling Thunder may not have been the best choice for my first big rollercoaster because as I went up and down and side to side you could hear the creaking of the wood on the track below. After riding this coaster, I felt like I could ride anything!
Rolling Thunder is a great roller coaster experience for both beginners and more experienced roller coaster riders. If it's your first big coaster, it makes you feel like you could get through anything, except maybe King Da Ka, that's only if you REALLY like roller coasters! This ride is also good after you've ridden all the coasters you wanted to ride and you just want a simpler one to let your stomach and nerves settle.
Don't forget, you have to be 44″ or taller!
For more information on Rolling Thunder or any other roller coaster go to: http://www.ultimaterollercoaster.com/coasters/yellowpages/coasters/rolling_sfgadv.shtml
Comments
comments