November 3rd, 2009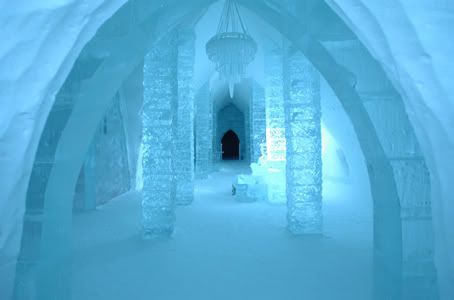 If any of you are like me and looooove winter (or if you just want to see something really cool) you must check this out.
This January will be the opening of the Québec City Ice Hotel, the only one in North America. It will be celebrating its 10th anniversary from January 4th to April 4th, and guests can visit, stay overnight, or even get married– The Ice Hotel hosts over 25 weddings each year!
This amazing hotel features an Ice café, an Ice Bar, an Ice Slide, and 36 rooms, all sculpted from ice. Warm sleeping bags are delivered to your hotel room in the evening, but all beds have a solid ice base. Some rooms have ice sculptures, and the special suites contain fireplaces and even private spas! While staying overnight at the hotel is very expensive, staying elsewhere in Québec City and visiting the hotel is a more affordable option. I visited the city with my middle school French class and found it to be one of the coolest cities I've ever been to– it has a lot of history, great places to eat, and so many places to go shopping. You can take a shuttle to the hotel and go on the tour. The Ice Hotel tours are complete with a chance to slide down the Ice Slide and have a drink at the Ice Bar.
Go have a look at some pictures from last year's hotel (it's re-designed each year). Would you stay overnight in a building completely constructed of ice?
Comments
comments