March 9th, 2010
Between campus visits, my Mom and I had enough time to visit Willis Tower (better known as the former Sears Tower, the tallest building in the Western hemisphere) and the Art Institute of Chicago.
Seeing Willis Tower was actually really awesome. I was sort of expecting an Empire State building experience: you wait a really long time, go up, oooohhh, aaaaahhh, and come back down. While waiting in line for the Skydeck (the part of the Willis Tower you're able to tour), however, there were loads of statistics about the building on the walls as well as touchscreen quizzes you could play around with. The line was pretty short and security was fast, but I have one complaint to throw in: they made you stop and take a picture in front of a green screen in case you wanted to buy a picture of you and your mother in front of a fake Chicago panorama. But whatever points the tower lost in my mind for the photo were regained during the elevator ride. As we went up, a plasma screen told us exactly how high we were and what famous structure we just surpassed in height… oh look, we just passed the Taj Mahal! Hey, there goes the Eiffel Tower!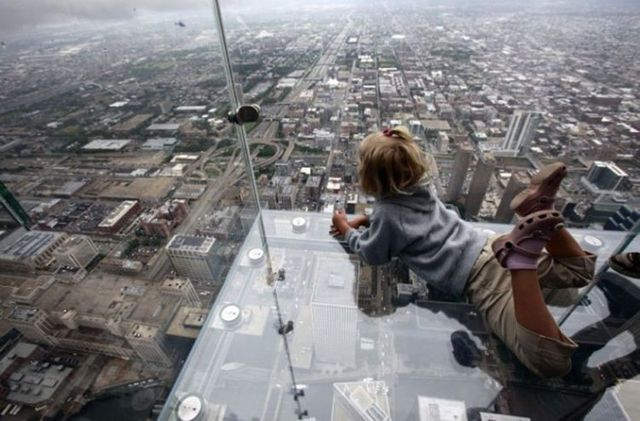 At the top, the view was extraordinary. My favorite part of the whole experience, however, was standing in one of the four glass boxes that jut out the side of the building. They are perfectly transparent, so when you walk out into one, you look down and see… well, 1,450 feet of Chicago beneath your feet. It was SO crazy and so worth it!
The Art Institute of Chicago was also really worth it (in fact, much more than worth it– we got in for free)! We first went to look at the Impressionist wing (my Mom and I both love love love the impressionists) and saw a bunch of famous, beautiful paintings including Seurat's Sunday Afternoon on the Island of La Grande Jatte, Caillebotte's Paris Street, and Van Gogh's Bedroom in Arles. Being so close to such masterpieces was even better than seeing the Mona Lisa because they're aren't behind a thick glass barrier.
Before I tell you the other exhibit we visited, I want you to carefully study this picture:

No, that isn't some historical house or even a room in the museum… technically. It's a miniature room, scaled down to 1/12 of its original size, but constructed completely with authentic materials. The rooms range from an ancient cathedral to an 18th-century Colonial kitchen to a modern Japanese living room. There are 68 in total, and all of them are fascinating down to the tiniest details. The key to enjoying the miniature rooms is paying close attention to that detail– you'll find yourself pretty amazed.
Walking around the Central Loop of Chicago and down Michigan Ave. (known as the "Magnificent Mile") was just so enjoyable. I loved the array of bookstores and art supply stores. There were enough cute tea salons and cafés to make each street block original but there were also all the usual chains to satisfy my inner consumer.
Stay tuned for one final installment in which I actually talk about the colleges I visited– now there's an idea! And don't forget, visit www.smartcollegevisit.com for more excellent tips on planning a good college trip.
Comments
comments