July 16th, 2010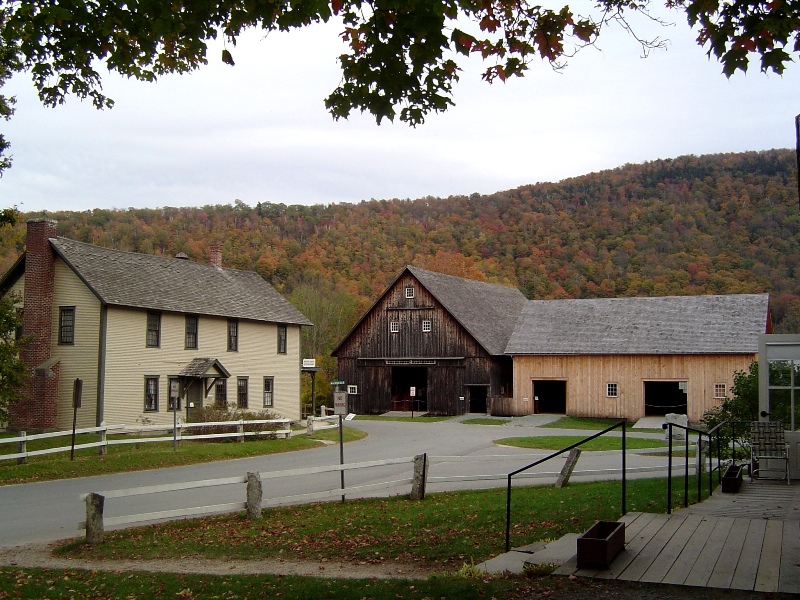 Our third and final day in Vermont consisted of zipping from location to location, trying to take in as much of the state as we could before it was time to say goodbye. We first visited the birthplace of Calvin Coolidge. The presidential museum was under construction, but we still got to wander around the little town he was born in. I learned a lot about life on a hillside farm, because all the tools they used for cooking, making maple syrup, farming, and surviving frigid winters were on display in a huge barn. There were also descriptions of the daily activities that Calvin might have helped out with as he grew up. We stopped in the church the Coolidges went to and a cheese store where we bought lots of… maple candy. The huge cheese wheels were a little too intimidating for my grandparents, I guess.
Next stop? The Vermont Country Store! For those of you who have never received the Vermont Country Store catalogue or have never even heard of it, pay close attention: this is the best store on the East Coast. I repeat, it is the best store on the East Coast, and it can only be found in Vermont. If you ever come to Vermont, you have to stop there (there's one in Weston and another in Rockingham). They sell food, toys, clothes, appliances, and more. It's all top quality, and a lot of it you can't find anywhere else. Click here to explore it yourself. I honestly could spend hours in that place.
Finally, we ended up visiting Bennington, where we went to the top of the monument commemorating the Battle of Bennington, then went on a spontaneous self-guided tour of Bennington College. The top of the monument had a gorgeous view of surrounding Vermont, as well as Massachusetts and New York off in the distance. Bennington College was small but quite pretty. The admissions staff was incredibly friendly, and after serving us coffee and hot chocolate, sent us off with a big envelope of information and a map. Bennington seems like a great place for those who want to design their own education and get a lot of attention and support from the professors.
And that, amigos, was my three-day Vermont expedition. I really hope I can go back sometime in the fall– the autumn colors are supposedly stunning.
Comments
comments