November 18th, 2012
The kimono (formal dress) or yukata (casual summer kimono) is a symbol of Japanese culture that is known worldwide. Where is the best place see hundreds of different kimono? Japanese festivals. What is the grandest festival in Japan? The Gion Masturi. This annual matsuri (Japanese for festival) lasts the entire month of July, and has been celebrated for over a 1100 years in Kyoto City, Japan's cultural capital. During the festival high points, the streets of Kyoto are like a traffic jam with people. This past summer I was one of those people caught in the crowds.
When I wanted to get from one place to another, there were very few spots where I did not have a person standing within less than a foot of me. However, this is part of the experience of a Japanese festival and, as a born New Yorker, it did not bother me too much.

The confluence of moving and stationery bodies was just the first thing that I noticed. The next was the variety of yukata that women and yes men too, were wearing. A yukata is summer kimono that is made of cotton instead of silk and has fewer undergarment layers. Each female yukata was elegant in its own way. Some screamed bright yellow or fuchsia while others whispered a soft blue or pale orange. The male yukata are do not normally have elaborate colors or patterns. These yukata are solid neutral colors. Before exploring the Gion Masturi, our guide directed my friends and me to a shop specializing in yukata (see list at article end). Although each yukata was a bit pricey, my friends bought yukata for themselves, each in their favorite colors. Then, the attending women at the shop taught my friends the proper way to wear the garment. They explained to always bring the uwamae or left side over the shitamae or right side. (Only dead bodies wear kimono wrapped the other way. ) They assisted by wrapping the fabric and obi (stomach sash) around my friends' waists in the traditional manner.
One other important thing to note for both women's yukata and kimono is that those garments with very long sleeves are for single women, and those with shorter sleeves are for married women. If you ask politely, you can take a photo with the local Japanese who are dressed up for the occasion. If you do not know how to speak Japanese, try to remember the word sumimasen (excuse me) and point to your camera.

Although I did not see any young boys wearing yukata, little girls ambled about showing off their beautifully patterned outfits. Some of the yukata that I saw were slightly different and more modern in style than the traditional look. This style is more integrate and cute because it includes bows, frills, and a shorter skirt rather than a long robe. You can tell it still is a yukata, because there is an obi around the stomach. Saddly, because I was in the mist of things while exploring the festival, I was not able to get any photos of these styles. But here is one similar to what I saw.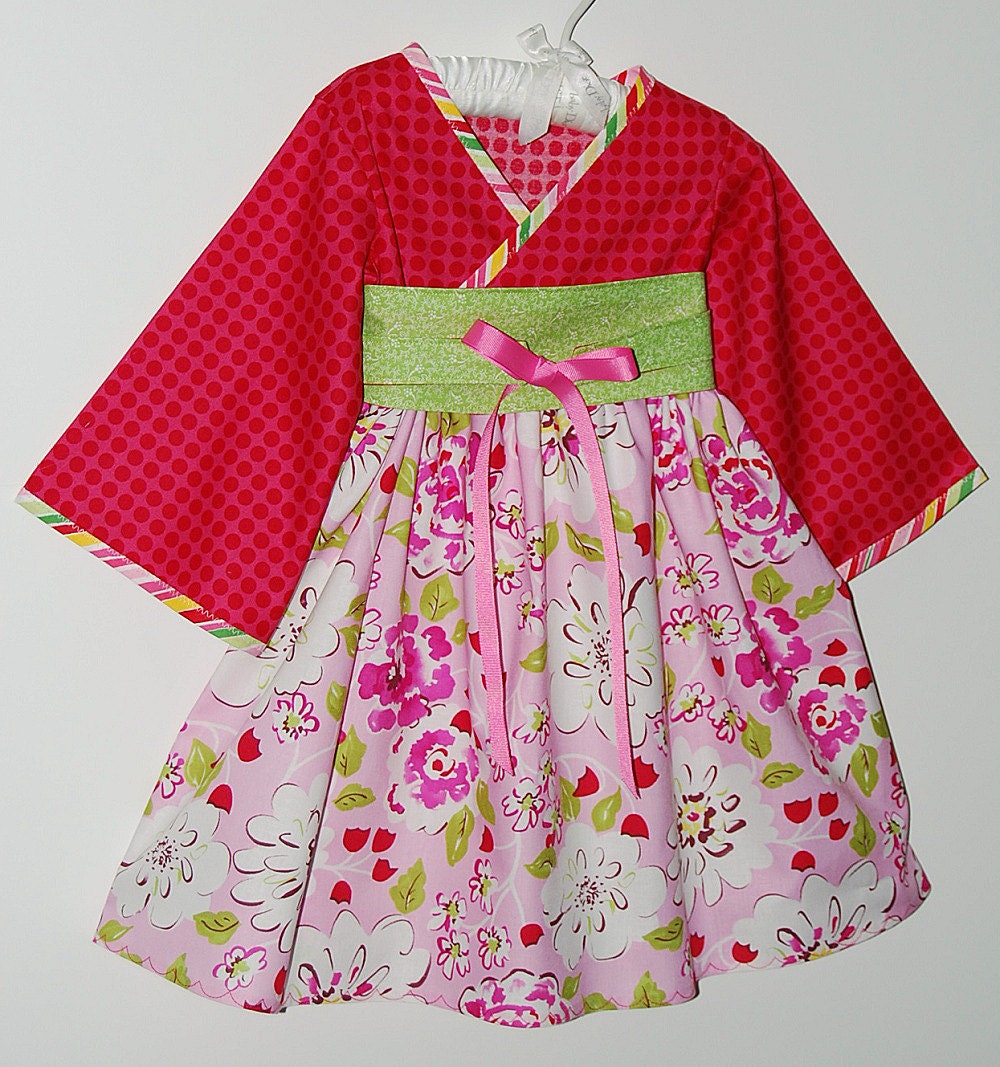 Places to buy kimono and yukata in Kyoto:
Kyoto Handicraft Center: a seven-story building near Sanjo-dori
Nishijin Textile Center: a modern-style buildingin Kyoto's Imadegawa section. In addition to selling kimono and yukata, it holds demonstrations and exhibits on the traditional Nishijin textile weaving industry and a kimono fashion show 6 times a day
Shopping Arcades:
Yukata, Kimono, and local crafts can be purchased at the covered shopping arcades are on Kyogoku-dori and Shinkyogoku-dori between Shijo-dori and Sanjo-dori (4th and 3rd Streets) as well as in Teramachi-dori between Shijo-dori and Oike-dori.
Dressing upin rented yukata and kimono: There are many places in Kyoto where you can get dressed up as a geisha or maiko (geisha in training), walk around and have your photo taken. These places also rent yukata and kimono for parties, and some also sell the traditional garments.
One popular kimono/yukata specialty shop is Kyoto Kiyomizu TATSUMIYA
Buying yukata online and in the USA:
Ichiroya Japan sells kimonos online at the Ichiroya flea market. Also try Kimono Market Sakura.
In the United States, Kujaku Trading exhibits nationally at anime fairs and has a physical storelocated at: 628A South Central Avenue, Hapeville, GA 30354
Comments
comments